HELLO..
it's december..
the end of December.. the month with HOLIDAYS hhahha :D
2009 is almost over. say Goodbye to 2009 and say HELLO to 2010
this is the ending of my story at 2009, but in 2010 the story must go on..
hey! it's christmas day.. happy christmas for all you that celebrate it..
i'm thinkin if in Indonesia there's a snow... maybe i can't breathe hahha i have a problem with my nose(lol). but, i'll enjoy it. i mean we can try build a snow man in a day.
wow! wonderful day! i just hope i can do that wih my friends :)
hahahha LOL w all my friends all day long.

Holiday..

what everyone wanted.

i can refused it too..

surf the net all day long, hang out, try something new, bungee jumping ( whattt??), and kinda stuff like that. what a wonderful holiday.

but! i just have a holiday for a week..

that's suck ! what i'm doin ?? just watch TV in home ??

uurrgghhh stupid school..

i miss my old school in Townsite,BBS (Buin Batu School). my friends in there have a holiday for 1 month.. 1 month guys !

lazy now. i am lazy.

there's nothin to do a.k.a boring !

well..

this is December the last month of the year but, the new month for me to start from beginning again.

December..December..December..

hope we'll meet again next year.. :]

for yaaa all......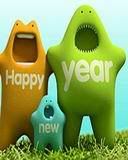 Have a Great Holiday !